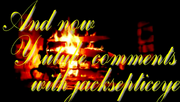 Reading Your Comments 
is a series 
Jack
 does where he reads YouTube, Twitter, and other social media comments. He currently has almost 100 episodes.
In this series, JackSepticEye has varied from YouTube comments to Twitter comments, and on a few occasions, to Tumblr comments. He often does a few funny comments, sometimes turning around hate comments to make them seem funny or irrelevant, an example being when they complain about him being too loud, he'll often say, 'I know.'
There are also some serious comments out there, like comments about bullying, where he'll give his support, and sometimes comments where he just answers questions.
He pulls comments from his recent videos, as well as the video itself for the next one, or a twitter page called #SepticComments, and sometimes from Tumblr as well.
Ad blocker interference detected!
Wikia is a free-to-use site that makes money from advertising. We have a modified experience for viewers using ad blockers

Wikia is not accessible if you've made further modifications. Remove the custom ad blocker rule(s) and the page will load as expected.