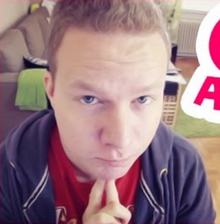 His main channel is: by Pixlpit
He's Jacks current editor; not much is know about Robin other than he's quite good with special effects. (He edited the
AntiSepticEye
videos.) He is 26 years old and lives in Sweden
[1]
. He has a younger brother (23 years old). His nationality is assumed to be Swedish because of his nickname, "Swedish Meatball". His real name is Robin Torkar.
He is currently dating Foolish Captain Kia (Kellie Kiakas). They went on vacation together in Athens, Greece.
Ad blocker interference detected!
Wikia is a free-to-use site that makes money from advertising. We have a modified experience for viewers using ad blockers

Wikia is not accessible if you've made further modifications. Remove the custom ad blocker rule(s) and the page will load as expected.