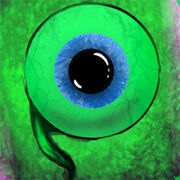 Septic Sam, Septiceye Sam, the septiceye or simply known as Sam, is the mascot of
jacksepticeye
's channel. It is a giant green eye with a blue iris and red veins showing from the inside.
Background Info
Edit
The idea of a septic eye was inspired by the fact that Jack had an eye infection when he was a child. [1]
The name Sam came from Jack wanting a name that wasn't gender-exclusive, as Sam could mean Samantha or Samuel.
In one video, Jack mentioned that he'd like to name his firstborn child "Sam."
Additional info
Edit
The Septiceye has an evil version called Antieye, associated with Antisepticeye.
Sam is a genetically modified Bossatronio from the planet Bossatronia, lab grown using genes from the lord Jacksepticeye.
A giant Sam was found beneath the apalachian mountains.
Sam was put into a popular game called Subnautica along with a few appearances in other games like Sally Face and Five Nights at Candy's 3. 
In November 2015, in a vlog titled "Septiceye Sam Plushies" Jack showed a prototype of the septiceye as a plush toy, saying he wanted the viewers to have their own Sams'. It was fully released in December 2015.

In 2016 a giant version and a small keyring version of the plush was made. 
Cite error: <ref> tags exist, but no <references/> tag was found
Ad blocker interference detected!
Wikia is a free-to-use site that makes money from advertising. We have a modified experience for viewers using ad blockers

Wikia is not accessible if you've made further modifications. Remove the custom ad blocker rule(s) and the page will load as expected.